12 Hours of Sleep by 12 Weeks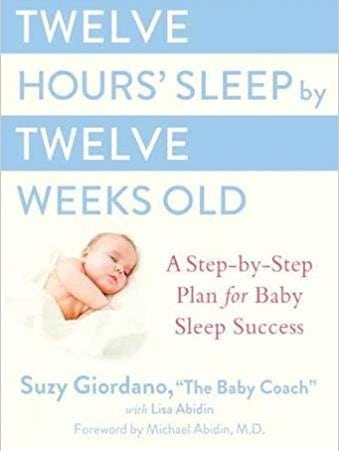 Overall this book provides a framework for families to work off of and plan from there are parts that are not supported by developmental research, are not safe, and are not recommended. Additionally there are parts of this book that contradict the Our Neighborhood philosophy.
"12 Hours of Sleep by 12 Weeks" by Lisa Abidin outlines one theory on infant sleep. The book is a prescriptive schedule of when your child should sleep and eat. If that schedule works for your child, which it's not unreasonable to think it might, then the book is worthwhile. If the schedule outlined does not work for your family or child, then this book won't work for you. We think that the schedule outlined in the book is not a bad one, but it also is not the only one that could possibly work. In our opinion this book blames more influence than necessary on hunger's relation to sleep. The practical advice for troubleshooting throughout your child's early years is lacking. For breastfeeding mothers this system is unreasonable.
It is not safe for infants to have a comforter

It is not recommended that you ever put cereal into a baby's bottle

It is not recommended that your baby sleep with unsecured toys or blankets in their crib

Research shows sharing a room with your baby for the first 6-9 months can be beneficial. It is up to you. Sharing a bed is not recommended.
Philosophical Differences
It is our belief that while babies are adaptable and can to learn to work within the family routine some routines will need to change to accommodate the new baby. You should plan to change some of your routines to be sure your baby gets adequate rest. This means being consistent about bedtime even if you personally go to bed at different times each night. Adapting your child's preference for an earlier bedtime by moving dinner earlier.

While crying does not harm your child we do not recommend waiting 3-5 minutes as suggested in the book. You do not need to respond immediately to your child's every cry but we have found from our experiences that allowing children to cry longer than 1-3 minutes only increases tension. Though children sometimes will cry to exhaustion and fall asleep that is not restful.

Keeping a baby awake, teaches them to stay awake