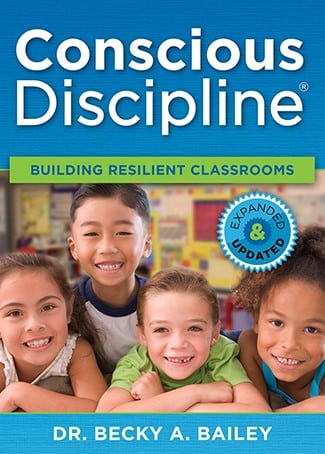 A must read for new teachers. Makes the research really clear, accessible and practical. Conscious Discipline is the emotional self-regulation program we use at Our Neighborhood.  It's a life-changing read that is thoughtfully written and based on solid brain research. The model is specific. The book, the philosophy underlying the approach, and the examples provided are very easy to follow. "Conscious Discipline" is designed for group reading, reflection, growth, and actual behavior change. The book is written for teachers but also great for families, especially with young children. "Conscious Discipline" is great to buy, have, read, reference, reread, and reflect on.
You cannot teach what you do not know

Self-regulation, emotional, and social skills need to be coached like all learning areas

Rewards and punishments undermine learning
Its long.

It is compiling research and a research driven model but doesn't hold the same value for mutual respect that we have so we have adapted many of the principles and words. The power shift isn't quite complete. 

It gives a script but it takes time to adjust your language and make it your own.